Medical & X-Ray Destruction in Chattanooga, Knoxville, Nashville, Huntsville, & Birmingham
Keeping Your Private Results & Information Safe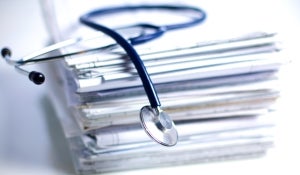 Your medical documents, x-rays, and other personal information should be kept safe from prying eyes and never left in the open. If you own a medical office and have copious medical documents that you no longer need or have recently switched over to digital records, our Chattanooga, Knoxville, Nashville, Huntsville, & Birmingham document destruction team at River City Shredding can help! Our experienced and licensed team members are well-versed in the most appropriate ways of protecting your privacy and often provide on-site services for your convenience and peace of mind.
Our medical shredding services are ideal for disposing of:
Medical records
Radiology films
Cine films
Pathology slides
Paraffin blocks
Fetal monitor strips
X-ray disposal
Questions regarding our medical record disposal process? Speak with one of our seasoned technicians by reaching out to our primary office at (423) 805-6070 !
Why Choose Us?
Locally Owned & Operated
Secure On-Site Shredding
Competitive Pricing
Exceptional Customer Service