Hard Drive Destruction in Chattanooga, Knoxville, Nashville, Huntsville, & Birmingham
Providing Professional, Confidential Solutions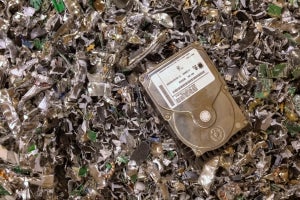 Destroying digital data may not be as easy as it sounds. Simply dropping files into the recycle bin on your desktop computer doesn't cut it anymore, and with increasingly sophisticated Internet networking and connectivity, unwanted digital data is a liability unless properly destroyed.
Our hard drive destruction technicians offer the following processes:
Hard drive destruction
IT equipment destruction
DVD and CD destruction
Your Data's Environmental Impact
Since digital data doesn't have a physical presence, environmental impact may not be a concern. However, rest assured that computer equipment and media storage will be destroyed and recycled in an eco-friendly fashion.
River City Shredding does the best work, and it starts with:
Free estimates
Quality customer service
Modern and up-to-date technology
To find out more about our hard drive destruction services, please call (423) 805-6070 !
Why Choose Us?
Locally Owned & Operated
Secure On-Site Shredding
Competitive Pricing
Exceptional Customer Service